In metro Melbourne, a high proportion of customers dining in restaurants or cafes during lunch time on weekdays. The Australian Heart Foundation gathered the survey data and reported that in 2015, on average, Australians spent more than $7.6 billion on fast foods [1]. It is about 7 times of the data reported in 2013, which was $1.2 billion spent on fast foods.
在墨尔本CBD工作日的午餐时间,餐馆或咖啡馆接客量很大。澳大利亚心脏基金会整理了调查数据,并报道说,2015年澳大利亚人平均每年花费在快餐上的金额超过76亿澳元 [1]。这可是2013年报道的数据(12亿澳元)的7倍。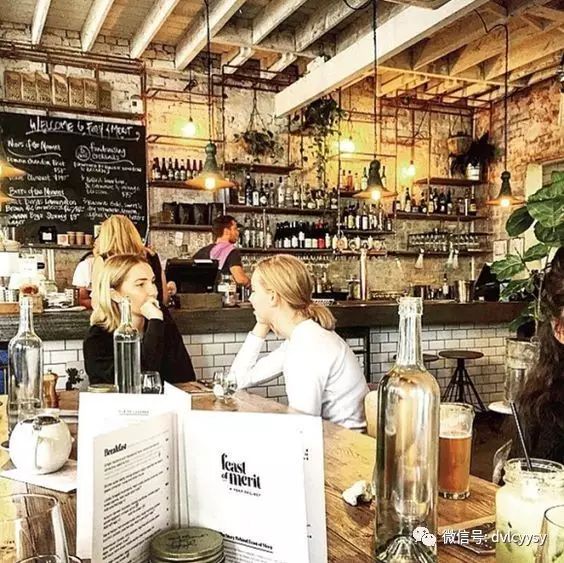 I believe this phenomenon is not only observed in Melbourne or other major cities in Australia but also in other busy cities in the world. As a healthcare professional, I have more access to know that more people are preparing their lunchboxes for schools or work, well this is reassuring to know. I have noticed that most medical workers bring their lunchboxes in hospitals where I worked. With the aid of social media, promoting ideas of lunch boxes and relevant successful programs that educate people preparing their meals for work and schools have been inspiring to the target audience.
我相信这个现象不仅在墨尔本或澳大利亚其他大城市,全世界繁忙的城市都会有这现象。作为一名医疗专业人士,我有更多的机会知道,越来越多的人致力于宣传教育老师学生们、上班族们如何准备自己的午餐盒。至少在我工作过的医院里,我注意到几乎全体医务人员都是有自己带午餐盒的习惯。在社交媒体的帮助下,推广午餐盒的想法和相关的成功方案实在是很鼓舞人心。
Take myself as an example, I prepare my lunch for work and schools. I started this when I was still a university student. I initiated this because I found that the serving size in Australia was too large for me to finish in one go. Therefore, I started preparing my own lunch with the ingredients I prefer and in controlled portions as planned. I need to confess, I love grocery shopping, my families and friends know that I love visiting farmers' markets and supermarkets. This is an individual thing, as I understand that many people do not like shopping for groceries but snacks only. I really enjoy trying new and different things, especially in Australia, there are so many international ingredients you can easily get in markets. I'm very experimental and curious, yep, that's how I roll!
用我自己作为一个例子,我有自己准备午餐带去学校和办公室的习惯。当我还是大学生的时候,我开始这么做了。起初是因为我发现,澳大利亚的餐厅给的份量实在太大,我每次都没有办法一次吃完。因此,我开始自己准备餐点,不仅可以用我喜欢的食材,还可以控制量的大小。我必须承认这点,我的家人和朋友都知道我喜欢去各种市场,例如农贸市场(如果你也是的话,有机会来澳洲的农贸市场,总是充满惊喜,还可以买到很多外面买不到的靓物)和超市。每个人都不同,我明白很多人并不喜欢购买食材,只喜欢买零食而已。我很喜欢尝试不同的东西,特别是在澳大利亚,你可以很轻松在超市或者市场买到很多来自全世界的食材。我很有实验精神,也很好奇,是的,这就是我!
---
Summary of Content 内容大纲 :

Part I: Rationale for less

第一部分:为什么要少吃

Part II: Healthier options to replace

第二部分:较健康的选项

Part III: Hints to self-decide

第三部分:如何自我抉择

Part IV: A recipe to share

第四部分:食谱分享
---
Health advocates often make a fuss over fast food and takeaway meals, to clarify this, they are fine to enjoy in small amounts occasionally if you are having a balanced diet [2].
健康倡导者经常对快餐和外卖持有强烈反对的态度,在这里我必须澄清这一点,如果你的饮食习惯是偏向平衡的,偶尔享受少量的快餐或者外卖食物并不是一件"不可饶恕"的事 [2]。
Part I: Rationale for less
第一部分:为什么要少吃
What made them look so bad to shoo them away from us?
到底是因为什么,我们要远离快餐和外卖食物呢?
Well, if you take a closer look, they are generally high in the following nutrients:
Energy
Sodium
Fat, saturated fat in particular
如果你仔细想想,它们通常含有很高的以下营养成分:
However, the majority of them are low in essential nutrients, like:
Dietary fibre
Vitamins
Minerals
然而,它们偏偏含有很少或极低的人体必需营养素:
With such diets high in energy, sodium and fat, while being low in fibre, vitamins and minerals, they can result in much higher risks in developing these diet-related illnesses:
Cardiovascular diseases <due to high energy and sat. fat; low fibre>
Unwanted weight gain <due to energy, sodium and sat. fat; low fibre>
Hypertension <due to high sodium and fat; low fibre>
Gastrointestinal diseases <due to low fibre>
由于这些快餐和外卖食物通常都是高热量、高钠和高脂肪,再加上低纤维、低维生素矿物质,这样就可能会引发一些饮食相关疾病:
心血管疾病<高热量高饱和脂肪; 低纤维>
不必要的增重<高热量、高钠和高饱和脂肪; 低纤维>
高血压<高钠和高脂肪; 低纤维>
胃肠道疾病<低纤维>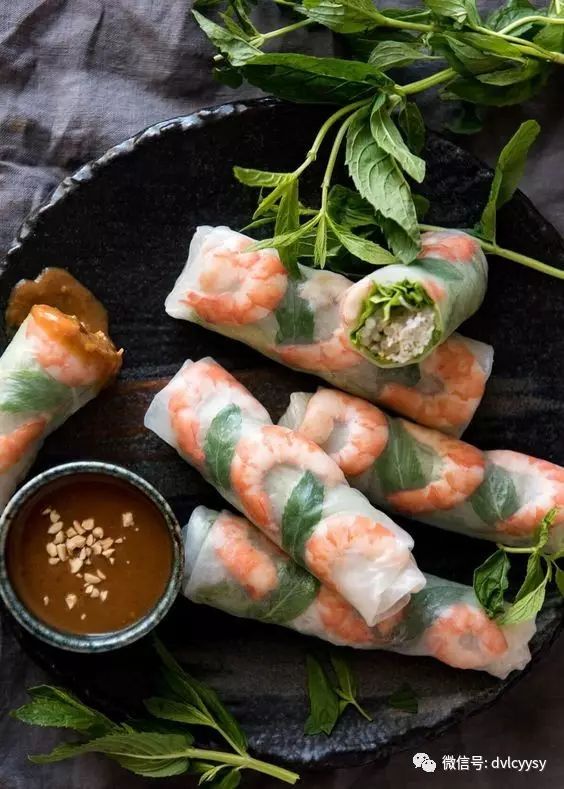 Part II: Healthier options to replace
第二部分:较健康的选项
So, what are some examples of healthier alternatives when we eat out? The Dietitians Association of Australia (DAA) has kindly provided the following ideas [3].
1.     Sushi
[it has a great amount of grains for energy, a good source of protein and fibre from the seaweed and fillings]
2.     Vietnamese rice rolls
[use of spices instead of seasonings to limit the amount of sodium content, they always have loads of vegetables as fillings in a rice paper roll]
3.     Plain hamburgers with extra salad
[key words are 'plain' and 'extra'; plain hamburgers are easy with just buns and leaner options of meat, without too much seasoning and dairy products, like cheese or cream; that would provide carbohydrates and protein, now the extra salad ensures a fibre content closer to what we need, we all know how small they normally serve a salad at a burger joint]
4.     Pasta with tomato-based sauces
[pasta is similar to Chinese noodles, there are plain and whole grain options, they both come in different shapes and sizes; the tomato-based sauces suggest the use of real tomatoes, instead of using artificial flavourings and heaps of sugar to create a tomato flavour in a factory; thus, real tomatoes give much less sodium than commercially-made pasta sauces]
5.     Grilled fish with a side salad
[grilled fish contain generally less fat than fried fish, and it could help reduce the amount of fat by the grilling process; fish is a type of white meat, providing a moderate amount of protein and low in fat; to combine with a side salad could add fibre to the dish to make it balance as a whole]
6.     Wholegrain sandwiches/wraps with lean meat and salad
[fibre from whole grain bread/wraps and salad, while low-fat protein from lean meat]
7.     Small gourmet style pizzas topped with vegetables, lean meat or seafood and opt for a thin crust
[pizza is a popular fast food option, yes! You can have pizzas, so what you choose to put on a pizza determines how healthy it is and if you can have it as a proper meal]
那么,当我们外出吃饭的时候,到底哪些是比较健康的选择呢?澳洲临床营养学会(DAA)提供了一些小点子 [3]。
1.     寿司
[充满大量的谷物,以及来自海藻和馅料的蛋白质和膳食纤维]
2.     越南米卷
[使用香料来代替调味料来限制钠含量,它们通常还会用一大堆蔬菜作为米纸的馅料]
3.     简单汉堡包,再加上额外的蔬菜沙拉
[关键词是在于"简单"和"额外"; 简单的汉堡包就只有面包和单一的肉类选择,没有太多的调味品和乳制品(奶酪或奶油); 这就提供碳水化合物和蛋白质,额外的蔬菜沙拉尽可能提供多的膳食纤维,我们应该都知道,通常快餐店给的沙拉分量都是很小,远远不够我们应该食用的蔬菜量]
4.     使用天然番茄做的面酱料的意大利面
[意大利面类似于中国面条,有素味和全麦的选择,也有不同的形状和大小; 基于番茄的调味汁表明使用的是天然的西红柿,而不是使用人造香料和糖来创造人工番茄味; 因此,降低钠含量]
5.     带沙拉的烤鱼
[烤鱼比油炸鱼含脂肪要少,烧烤的过程中还能减少脂肪含量; 鱼是白肉,提供足量的蛋白质且低脂肪; 与一份沙拉还可以增加膳食纤维,达到餐食的整体平衡]
6.     夹瘦肉和沙拉的全麦三明治/卷
[来自全麦面包/饼皮和沙拉的膳食纤维,以及来自瘦肉的低脂蛋白质]
7.     小份、薄底比萨饼搭配蔬菜、瘦肉或海鲜
[比萨是相当受欢迎的快餐选择,是的!你可以吃比萨饼,但是你选择放在比萨饼上的食材更加决定你的披萨是否健康]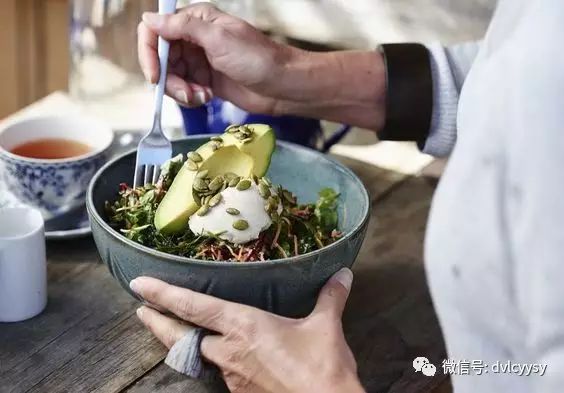 Part III: Hints to self-decide
第三部分:如何自我抉择
Now it's your turn, don't worry, I have some tips for you to decide for yourself!
Always have some simple and quick ingredients ready in your fridge, so you are less likely to order takeaways and prepare your meals from your kitchen. Some examples are pizza bases, homemade pasta sauces, fresh vegetable mix, lean meat slices, lean meat mince, prepared lentils, multigrain bread or wraps.
Know what kind of oil is used to cook up your food. If possible, go for a healthier option, such as olive oil, be cautious of what cooking method is used in the food you are ordering, that is to do with the smoking point of the oil. For example, extra virgin olive oil should not be used for deep frying purposes. More information about the smoking point during cooking will be touched on soon.
There will always be a promotional deal when you buy fast foods. Traditionally, there are chips and soft drinks for you to go with your burgers. Now, there are more healthier options for you to choose from, as a result of all the health promotion done by nutrition advocates. You can choose plain yoghurt, side salad, corn on a cob, or just plain water to replace soft drinks.
Request to trim fat from your meat, or if you are ordering a pre-cooked chicken, ask the chef/cook to remove the chicken skin before cooking for you.
If on an occasion, you are treating yourself to a fast meal. The easiest way is to control your portion by asking for a smaller sized meal. In addition, ask for more vegetables to fill up your stomach.
现在轮到你们了,别担心,我有一些小提示给你们!
经常在您的冰箱中准备好一些简单又方便的食材,方便你从自己的厨房变出美味。这样能降低你订购外卖的几率。比如你可以储备一些比萨基础饼皮、自制面食酱、新鲜蔬菜、瘦肉片、瘦肉糜、豆类、杂粮面包或谷物。
明白你的食物是用什么样的油烹饪的。如果可能的话,选择较健康的油类,例如橄榄油。但是要小心,选择哪一种烹饪油和你选择的烹饪方式有很大的关系,这与不同的油的烟点有关。例如,特级初榨橄榄油应该避免被油炸。更多有关烟点的信息,我们之后再来讨论。
快餐店常常会有促销活动,比如汉堡包的传统搭配就是薯条和软性饮料。现在,多亏营养倡导者进行的健康宣传的结果,有更多更健康的食材来让你选择。比如像原味酸奶、沙拉、玉米棒或矿泉水来替代软性饮料。
你还可以尝试请求厨房在烹饪之前帮你切除肉排上的肥肉,或者如果您订购了预先烹饪的鸡肉,可以让厨师帮你去除鸡皮。
你偶尔就是想要放纵自己一下,想要吃点"垃圾食品"。最简单的方法是点比较小份的快餐来控制你的食用量。另外点较大份的沙拉来填饱肚子。
These do not only apply when you order takeaway meals, but they also work when you dine in restaurants. Try them and see how they work on you! Now, do you feel more confident when eating out?
不仅仅在点快餐外卖的时候,即使在餐厅点菜,这些小提示也是适用的哦!记得试试看,然后和我分享哦!现在你外出就餐,会感觉更自信了吗?
I have spotted a recipe (see below) to throw in my lunch box for tomorrow. I'll see you in the kitchen! See you later, guys.
我找到一个适合做明天午餐的食谱(见下文),那我们在厨房见咯!
Part IV: A recipe to share
第四部分:食谱分享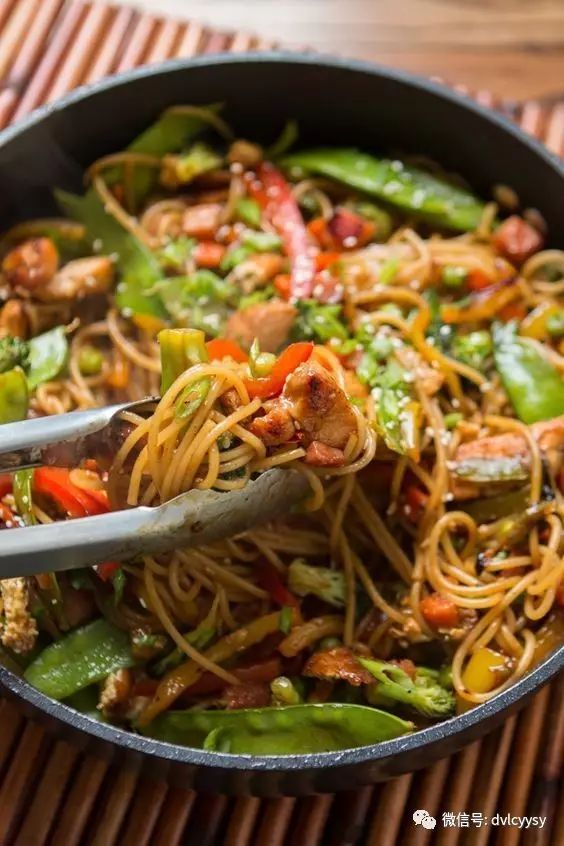 RECIPE [4] – Teriyaki Chicken and Noodle Stir Fry 食谱分享 [4] – 照烧鸡肉炒面
Prep time 准备时间: 35-min
Cooking time 烹饪时间: 10-min
No of serves 份数: 4
Table 1. Ingredients Used in Teriyaki Chicken and Noodle Stir Fry 照烧鸡肉炒面所需食材
| | | | | |
| --- | --- | --- | --- | --- |
| | Ingredients | 材料 | Quantities | 用量 |
| 1 | Skinless chicken breast fillets | 无皮鸡胸肉片 | 125g  x 4 | 125克 x 4 |
| 2 | Teriyaki marinade | 照烧酱 | ½  cup | ½ 杯 |
| 3 | Olive spray | 橄榄油喷剂 | As needed | 适量 |
| 4 | Sunflower oil | 葵花籽油 | 1  tbsp | 1 汤匙 |
| 5 | Red capsicum, seeded and sliced | 红灯笼椒, 去籽切片 | 1  large | 1 大灯笼椒 |
| 6 | Carrots, sliced | 胡萝卜, 切片 | 3  medium | 3 中等大小 |
| 7 | Snow peas, trimmed | 雪豌豆 | 2 cups | 2 杯 |
| 8 | Broccoli florets | 西兰花 | 3  cups | 3 杯 |
| 9 | Fresh egg noodles | 新鲜的鸡蛋面 | 440g | 440克 |
Table 2. Nutrition Information Panel for Teriyaki Chicken and Noodle Stir Fry 照烧鸡肉炒面营养成分分析
Nutrition Information (per serve) 营养信息(每份)
Energy
热量
3021 kJ (722 calories)
3021 kJ(722卡路里)
Protein
蛋白质
49g
49克
Total fat
总脂肪
12g
12克
Carbohydrates
碳水化合物
98g
98克
Saturated fat
饱和脂肪
1.9g
1.9克
Sugars
糖份
18.9g
18.9克
Dietary fibre
膳食纤维
12g
12克
Sodium
钠
938mg
938毫克
Instructions:
1.     Place chicken breasts on a plate and drizzle with 1 tbsp of the marinade. Marinade for 30 minutes or overnight.
2.     Heat a chargrill or frying pan over medium heat and lightly spray with oil. Cook chicken thoroughly.
3.     In the meantime, heat oil in wok or frying pan. Stir fry capsicum, carrots, snow peas and broccoli for 2-3 minutes.Add noodles and stir fry for 2-3 minutes. Add remaining marinade and stir fry until hot.
4.     Serve topped with the grilled chicken breasts.
烹饪方式:
1.     将鸡胸肉放在盘子上,用1汤匙的腌料腌大概30分钟或一个晚上。
2.     在中等温度下加热烤盘或煎锅,喷上适量的烹饪油。彻底煮熟鸡肉。
3.     在炒锅或煎锅中加热油,翻炒灯笼椒、胡萝卜、雪豌豆和西兰大约2-3分钟。加入面条搅约2-3分钟。再加入剩余的腌料,搅拌至加热均匀。
4.     加入烤鸡胸肉,就可以上桌啦。
---
References 参考文献 :

[1] https://www.heartfoundation.org.au/news/aussies-spending-more-than-7.16-billion-on-fast-foods-every-year

[2] Australian Guide to Healthy Eating (AGHE)

[3] DAA: Smart eating for a healthier you

[4] DAA: Smart eating recipes
---
Thanks to Pinterest for the photographs.
---