Every science student would be asked to read and use the information from reliable internet sources. So how do you define 'reliability' of information, then? Some easy answers from university students are: –
"Well like some convincing suffixes, like '.gov'."
"Look at the title, the design of the website, and sometimes you can judge from the reputation if you keep hearing about certain websites, they are most likely to be reliable."
"Sometimes, lecturers would provide a list of websites or the university does, so use those websites would be safe and definitely reliable."
… …
Well, you get all sorts of answers to what exactly counts as 'reliable' sources.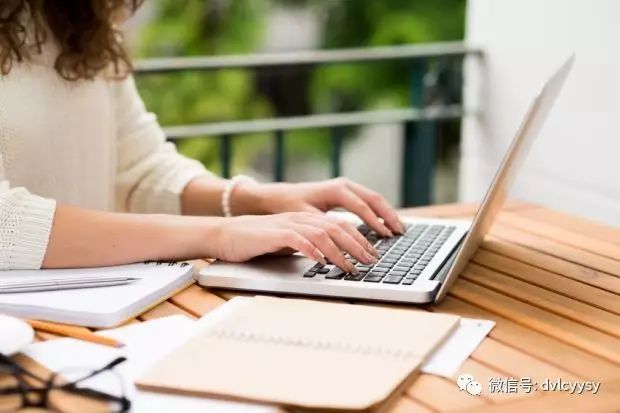 每个科学界的学生都会被要求必须要阅读和使用可靠的互联网信息来源。
那么如何来定义信息的"可靠性"?
我们来简单看看大学生们的答案是什么呢?
"好像有一些比较有说服力的网址后缀,比如'.gov'[政府机构]等等。
"可以看看标题,网站的设计,有时你可以从一些网站的声誉判断,像是你常听说某些网站发表文章什么的,他们很可能就是比较可靠的选择。"
"有时,讲师或者学校会提供一些可用网站的建议名单,所以使用这些网站绝对是安全可靠的。
… …
你看,对于什么是"可靠性的信息来源",大学生的回答也是参差不齐。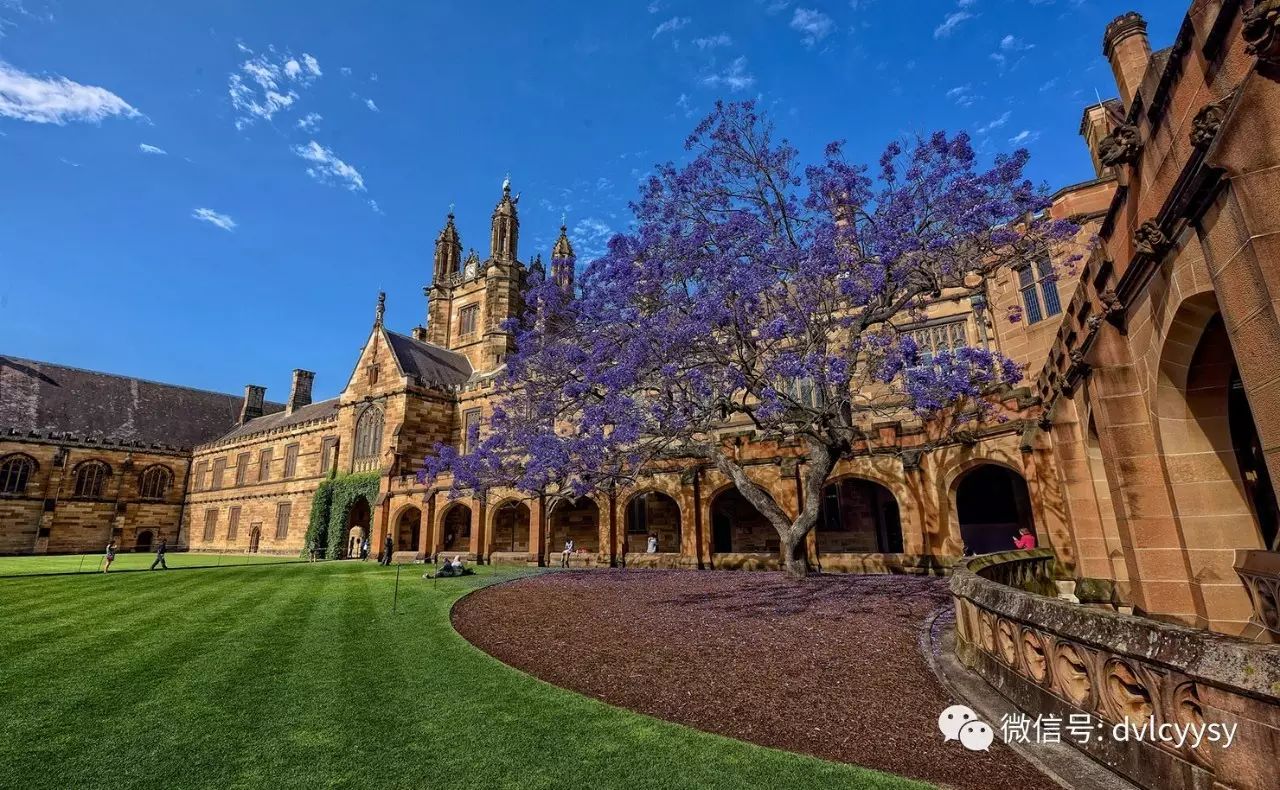 Kindly, the University of Sydney [1] listed a few tips to identify if it is a reputable and reliable source of information for academic uses.
好在,悉尼大学 [1] 分享了一些技巧,便于我们判断眼前的资讯是否能用作可靠的学术用途。
---
Published books or professional journals by one or more authors from the area of study.
Reported released by government
Reports from highly reputable and well-known organisations, like WHO, UNESCO, OECD, etc
Published theses
Unpublished theses held by universities
The internet sites with authors with reputation, publisher and domain names showing any relevance to professional credentials for academic writing use
Videos that are approved by universities and accessible to all staff and students through university intranet
Magazines or newspapers with high reputation, like Nature, The Wall Street Journal, etc
由一个或多个相关研究领域的作者发表的书籍或专业期刊。
政府发表的报告
来自知名组织的报告,如世卫组织、教科文组织、经合组织等
通过发表的论文
未经发表、由大学掌握发表权利的论文
由拥有相关名誉的作者、发布商和域名,并显示任何相关的专业发表学术写作资格的网站
由大学批准、所有工作人员和学生通过大学内部网获取的视频信息
杂志或具有高信誉的报社,如自然周刊、华尔街期刊等
---

 [2]
From here, I would like to introduce an infographic presentation of ranking various science websites, from the American Council on Science and Health [3].
从这里,我想介绍由美国科学和健康理事会 [3] 发表的信息图表,来排名各种科学资讯的网站。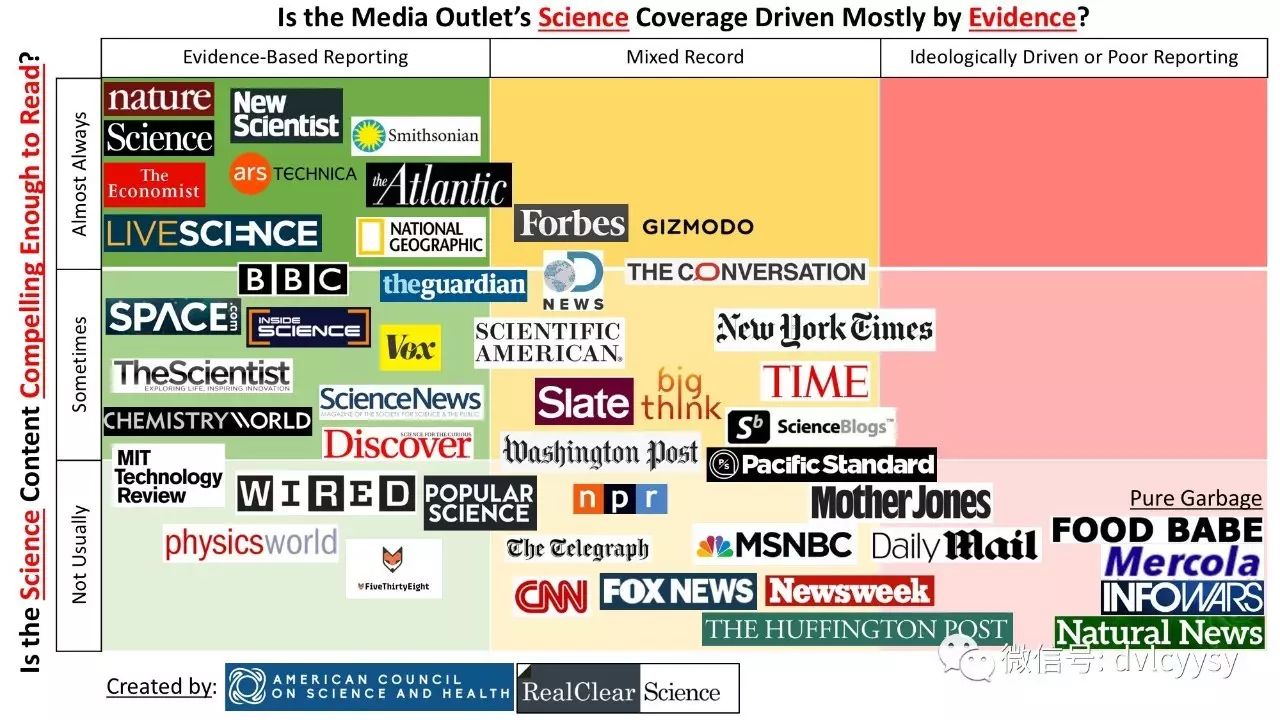 [3] [Click on the image and zoom in for better presentation] [点击图片并放大]
The x-axis [titled as "Is the media outlet's science coverage driven mostly by evidence?"] indicates how well the sources are backed up with scientific evidence. The information would be published with multiple levels of scientific studies or evidence to support if the science website is listed more to the left end of the x-axis.
The y-axis [titled as "Is the science content compelling enough to read?"] shows if the information is convincing enough, the better options are listed to the top of the y-axis.
x轴(标题为"媒体上的科学覆盖是否主要由科学性证据支持")说明每一条资讯背后是否能提供强力的科学证据证明。 如果科学网站更多地列在x轴的左端,那么这些信息通畅是以多层次的科学研究或证据发表的。
y轴(标题为"科学内容是否具有很强的说服力?")表明所发表的信息是否足够令人信服,列在y轴顶部的都是较好的几个网站选项。
To conclude this, those science websites clustered at the top left corner of the image are better and more reliable sources you can read and possibly use for your write-ups. It does not mean that all the other websites are not worth reading, they sometimes would provide brilliant ideas in areas for scientific investigation. So definitely they are all good reading materials managed by wonderful science people all over the world.
总而言之,那些集中在图像左上角的科学网站是较好、较可靠的信息来源,你可以选择来阅读、或者作为你的参考文献。 这并不意味着其他的网站不值得阅读,他们有时会提供未来科学研究领域的一些很棒的想法。 而且这些网站都是由一群很优秀的科学界人员来管理和传播资讯的。
The websites on the top left corners are 被列在左上角的网站是:

Nature 自然期刊
New Scientist 新科学家杂志
Science 科学期刊
Smithsonian 史密森尼杂志
ArsTechnica 亚斯科技网
The Economist 经济学家杂志
The Atlantic 大西洋月刊
Live Science 生活科学杂志
National Geographic 国家地理杂志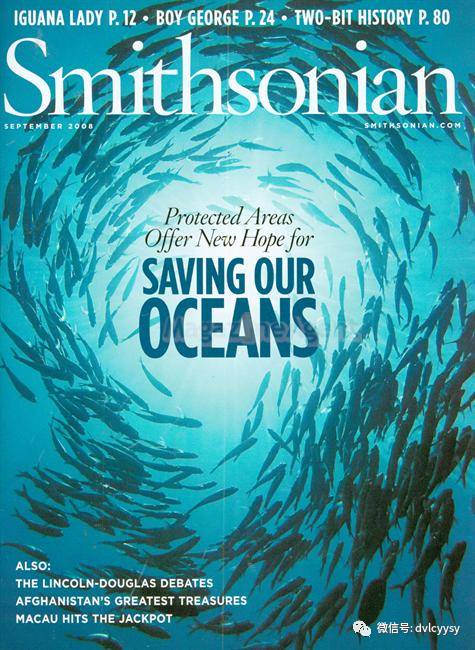 [4]
References 参考文献 :
1. http://writesite.elearn.usyd.edu.au/m2/m2u2/m2u2s2/m2u2s2_1.htm
2. https://usrtk.org/hall-of-shame/why-you-cant-trust-the-american-council-on-science-and-health/
3. http://acsh.org/news/2017/03/05/infographic-best-and-worst-science-news-sites-10948 
4. https://en.wikipedia.org/wiki/Smithsonian_(magazine)